Surface water drainage: how it works and why it matters
Proper management and flow of rainwater and waste water is, amongst other things, essential to ensure building projects are long-lasting and sustainable. To fix problems with surface water drainage and foul water drainage in buildings, we use specific components and installations. These components and installations help prevent water damage and accumulation.
These water systems consist of several connected components. Designed to support the natural water cycle, they facilitate adequate surface water drainage and foul water drainage.
Pipes, channels, and inspection chambers direct foul water and surface water towards their respective destinations. Efficient systems allow components to release water properly, preventing water buildup and potential risks. By artificially supporting the natural cycle of water, drainage systems help prevent the risk of stagnant water buildup and, eventually, flooding.
In this article, we will tackle a few questions on drainage systems: Where does rainwater go? Where does wastewater go? What components achieve a high-performance drainage system both inside and outside a building and how are they installed?
What is surface water drainage?
Surface water drainage occurs when rainwater falls on a building and the drainage systems drain away the water. And where does the rainwater go?
Factors like surface type, slope, soil, and local infrastructure determine the path of rainwater. Typically, modern rainwater drainage systems directs water to one of three paths:
Infiltration: When soaked into the ground, rainwater replenishes groundwater reservoirs. It percolates through soil and porous surfaces.

Surface runoff: The rainwater that doesn't infiltrate the ground flows over the surface creates what is known as surface runoff. It collects in natural bodies of water (streams, rivers, lakes). Surface runoff can be directed towards water management systems.

Evaporation: Depending on the climate, rainwater may evaporate directly from surfaces. It transforms into water vapor and contributes to the formation of clouds and subsequent rainfall.
A proper rainwater drainage system allows for these phenomena to occur, preventing water from accumulating in and around buildings and causing damage to their structures or foundations. Instead, water build up is prevented and excess water is directed towards acceptable pathways and rainwater drains, reducing the chance of soil erosion and preventing mud and topsoil from washing away.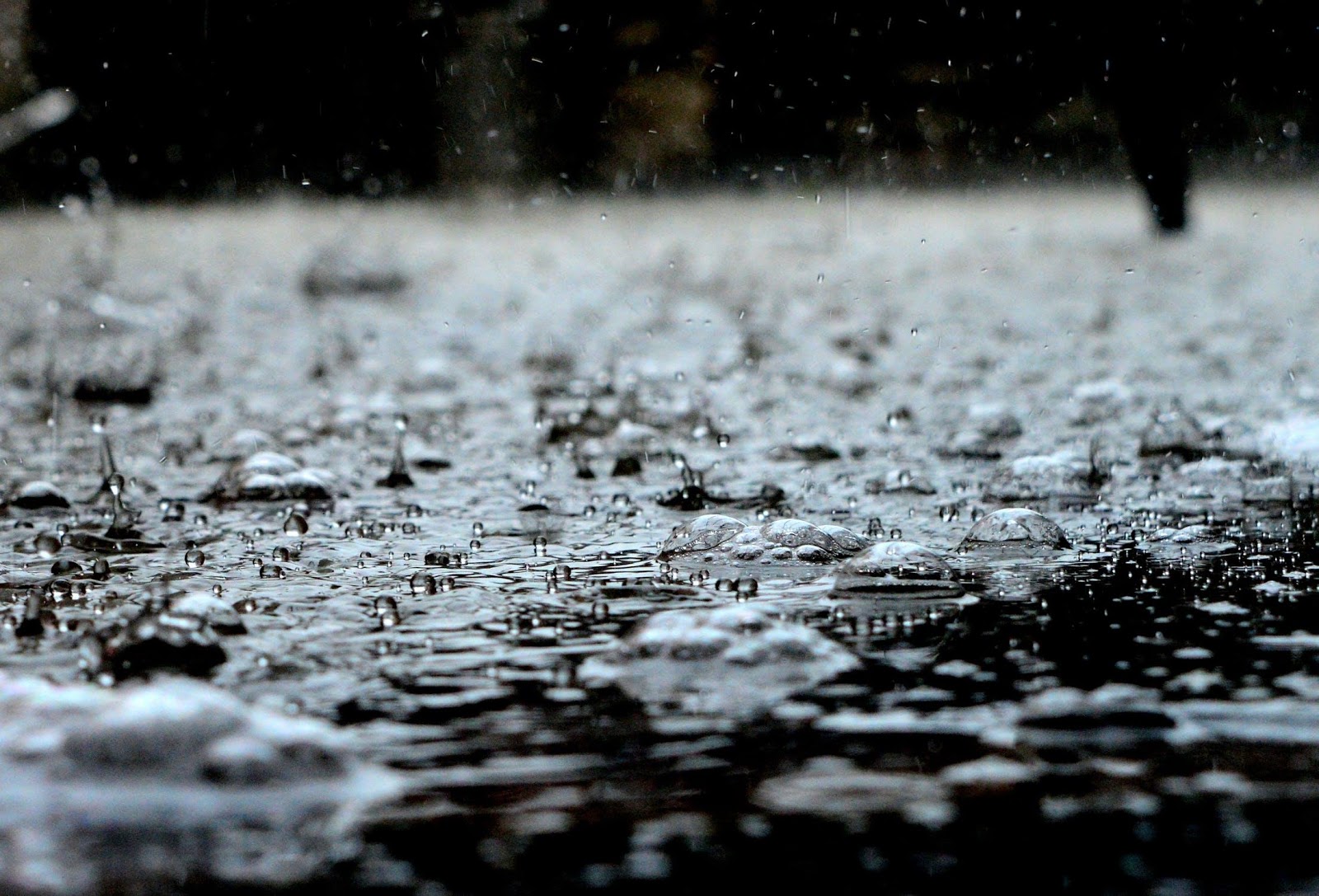 What is foul water drainage?
Foul water or wastewater management practices vary depending on the location and infrastructure of a particular area. Typically, foul water goes through a system of drainage pipes and treatment processes before being disposed of or reused. The foul water may first be directed to a septic tank. There are, in general, four steps:
Collection: The foul water drainage system gathers and directs wastewater from ground level homes, businesses, and industries to an underground foul sewer system via a private sewer. This includes domestic wastewater from sinks, showers, toilets, washing machines, as well as industrial and commercial wastewater.

Conveyance: The collected wastewater then makes its way through the sewer network to a sewage treatment plant.

Treatment: Physical, biological, and chemical processes remove impurities, pollutants, and contaminants from the wastewater.

Discharge or reuse: From the treatment plant, the water is discharged into nearby bodies of water (rivers, streams, or oceans). It may also be used for irrigation or industrial processes.
Without proper wastewater management and high quality components, buildings and their surroundings may suffer from wastewater accumulation and leakages. Bad drainage and wastewater management plans harm buildings and the environment, and reversing the damage is challenging. It can cause bad smells, germs, pests, a high water bill, and might need a drain survey to fix the problem.
Interior and outdoor drainage systems
Based on the function performed, water drainage systems are divided into two broad categories:
Outdoor drainage systems
Outdoor drainage systems are used for the collection and outflow of surface water: they therefore allow the drainage of rainwater towards collection basins.

The structure of an outdoor drainage system develops vertically from the roof to the surface. The main components of an external system are:
Gutters
Installed on sloping roofs to direct rainwater away from the foundation.
Inspection chambers
They collect the water that flows out of the gutters.
Inspection chambers
are siphoned, i.e. capable of retaining foul odors.
Drainage channels
Drainage channels
collect the water coming from the downpipe and make it flow correctly and with the right timing towards sewers and pipes directed to the collection basin.
Interior drainage system for foul water drainage
Interior drainage systems are those commonly used in construction, useful for the outflow of foul water present inside buildings or homes generated by showers, sinks, etc.
The main components of an foul water drainage system are:
Channels
Used, for example, in showers to allow the water to flow correctly inside the drain pipe.
Grates
Used, as in the outdoor drainage system, to cover drainage channels.
Siphoned floor drains
Used to let the water from the bathroom flow out in a single point while blocking foul odors.
When creating an internal foul water drainage system it is essential to correctly size drain pipes, channels and grates so that they have a higher flow capacity than the outflow (to ensure that the water can always flow correctly without accumulating). Furthermore, it is important to choose siphoned and easily disinfectable products.
The main components of a drainage system
To created reliable drainage systems, use high-quality drainage products for the whole network and its parts. Here are the essential components of a drainage system:
Drainage channels
Drainage channels, also known as channel drains, are vital for moving water from one place to another in drainage systems.
There are different types of drainage channels:
Concrete drainage channels. Heavy, fragile, and economical. High resistance to compression but limited resistance to corrosion from chemicals. Because of their weight, they are expensive to transport and, hence, to install.
Polymer concrete channels. Lighter, stronger, and more expensive. Created by adding chemicals and sand to the concrete, making them stronger, harder, but also lighter..
Steel channels. Lower flow rate but higher costs. Aesthetically pleasing, they provide a clean surface finish and are 100% recyclable.
Plastic drainage channels. Generally in a "U" shape, they offer the best balance between cost and functionality. They can be made in HDPE (high density polyethylene) or PP (polypropylene) which are high-performance materials, non-toxic, lightweight, resistant to temperature changes and corrosion. They offer a number of benefits compared to their non-plastic counterparts.
To obtain a functional drainage system, it is necessary to select channels of adequate size. To calculate the flow rate needed from the channels, you can use the Chezy formula. Consulting a skilled installer when installing channel drains is highly recommended. As a leading drainage materials supplier, Dakota Group offers a wide range of drainage channels.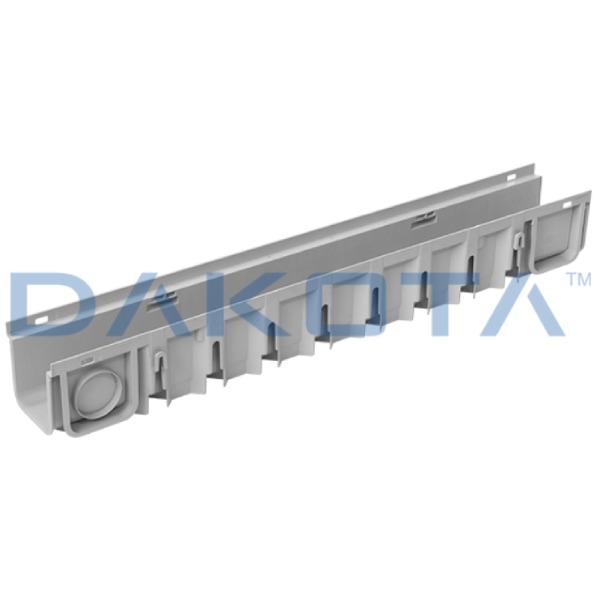 Drainage channel grates
Drainage channel grates, or channel drain grating, are covers that are fixed to the top of channels. They are used to make it possible for pedestrians to walk on and vehicles to drive over channels while protecting them from blockage.
There are various types of drainage channel grates:
Grates in cast iron. Heavy, with a very large flow capacity.
Galvanized steel grating. Reduced cost and good resistance. However, the material is prone to oxidation over time.
Stainless steel grating. Particularly used indoors as they can be easily disinfected.
Plastic grates. Eco-friendly, customizable, light, resistant, and cheap. The most popular material used for most drainage channel grating solutions.
Different materials and shapes of gratings are used depending on the application and need for drainage channel grates - principally domestic, road, or industrial uses. Selecting which type of grating and its material is usually done on this basis. Discover Dakota's range of channels, grates, and covers.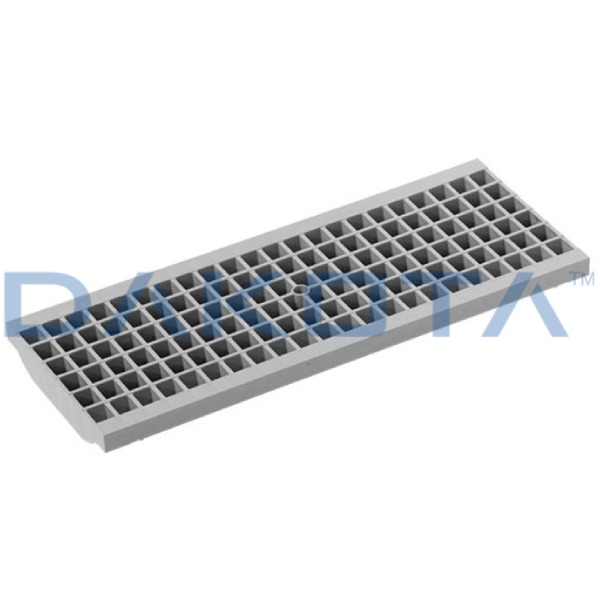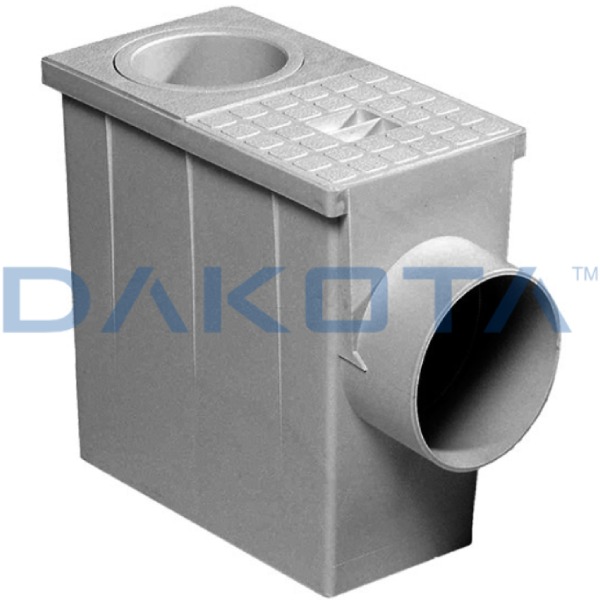 How to install drainage channels
A surface water drainage system needs to be installed correctly. It is important to note that each country has different standards and procedures. The UNI EN 1433:2008 standard provides guidelines for channel drain installation in Europe, and rainwater drainage regulations in the UK follow similar guidelines.
Careful planning is needed before installation to calculate the drainage flow rate at different points of the system.
Checking the rainfall rate (or rainfall index) in the area;

Checking the viscosity coefficient of the soil;
After digging a trench for the drainage channels, a concrete base is poured and the channels are placed, connected to each other, and to the drain outlet that leads to underground drainage (the public sewer). Drainage channel grates are installed and concrete is poured to fix the system in place. Allowing the concrete to sit for at least 72 hours, the final step is to install the flooring, on top of the overall system. Make sure to properly maintain and clean your drainage channels to ensure efficiency.
How to choose a building materials supplier for your drainage system
Picking a good building materials supplier for is important for creating durable and effective structures, like a rainwater drainage system.
The quality and reliability of the components and brands can greatly impact how long your building projects last. Make sure that your suppliers provide certified documentation for its products.
Furthermore, choosing a building materials supplier with a diverse catalog of components has a number of benefits. By doing so, you get a supplier but also a partner who understands the needs of your projects. You will also have shorter wait times for shipments and the guarantee that all parts work well together within the supplier's systems.
A supplier who manufactures their own products is considered reliable and competent because they exercise more control over their supply chain.
Dakota Group: A one-stop shop for water drainage supplies and more
Dakota Group has been a reliable supplier of building materials for the Italian and European construction market since 1980. In addition to water drainage supplies, it also sells a range of building materials and products for roofing, outdoor flooring, interior finishes, insulation, and plasterboard.
Renowned brand
Over 40 years of experience in the production and distribution of construction products, trusted by over 7500 customers worldwide.
Extensive catalogue
With over 3,000 products available, Dakota supplies all sorts of drainage materials - and full ranges of building supplies.
Internal production, Made in Italy
Dakota boasts a number of in-house manufacturing facilities across Europe. A majority of its products are "Made in Italy".
Continental presence and quality customer service
With offices across Europe, Dakota offers numerous options for international shipments, with qualified agents and customer care representatives..
Technical documentation
All Dakota products have internationally recognized technical documentation and certifications of the highest possible standards.
Discover why over 7500 satisfied customers across five continents have trusted Dakota. One building materials supplier for your drainage supplies and most of your construction needs!